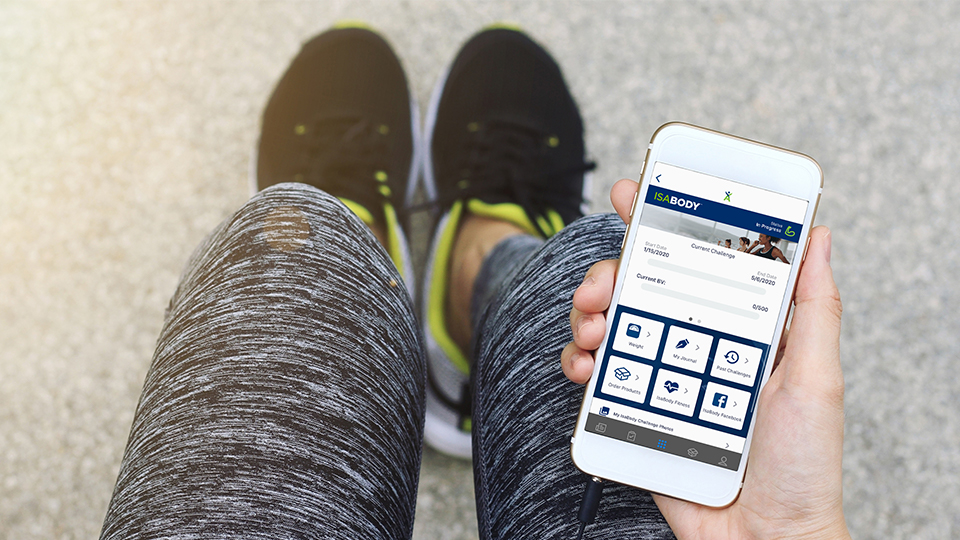 IsaBody Just Got Even Better!
Get ready, because we're bringing SO many new and exciting things to IsaBody® this year! We love every single one of them, but the one we think you'll love the most? Our entirely new completion process! That's right — reaching your goals with IsaBody is now easier than ever. Beginning today, Jan. 24, 2020, the IsaBody Challenge® is available in the IsaLife™ app! What you can easily do:
Register for the IsaBody Challenge. The new registration process is now live and will be available for all new registrations going forward.
Take your before photos (your front photo will be automatically date-stamped within the app!).
Access key information such as important due dates regarding your Challenge on the dashboard.
Track your BV using the BV tracker, which will be updated in real time to reflect how much BV you have accumulated during your Challenge.
Join us at IsaBody Fitness! You'll have exclusive access to our new monthly workout program that will help you on your journey.
Who Can Complete Their Challenge in the IsaLife App?
If your Challenge qualifies for Judging Period 1 and you still need to submit your progress photos and essay and/or maintenance photos, you will need to complete your Challenge in your Back Office as done in the past. If your Challenge qualifies for Judging Period 2, beginning Feb. 29, 2020, you will be able to use the new and improved completion process in the app! We know this can get confusing, so please use the chart below to determine how you can complete your Challenge.
*Only required for those who have chosen to submit their transformation for the chance to be selected as an IsaBody Finalist or Honorable Mention.
What Else Is New?
Starting in Judging Period 2 (Challenges completed on or after Feb. 29, 2020), you will be able to choose if you would like to submit your transformation for the chance to be selected as one of our IsaBody Finalists or Honorable Mentions! (If not, that's fine, too!) If you would like to submit your transformation, you'll be asked to provide a 200-to-500-word inspirational essay. You may also be required to submit four final maintenance photos to complete your Challenge if your Challenge ends three weeks or more prior to the close of your Judging Period.
Meet Our 2020 Grand Prize Winner!
At our Canada Celebration 2020 event, we announced our 2020 Canada IsaBody Grand Prize Winner. Please help us congratulate this incredible participant who has worked so hard to earn his title.
Dave te Sligte is our Canada IsaBody Grand Prize Winner and recipient of CA$10,000!
Between finishing his master's degree, working a full-time job, completing an internship, and being a dad, Dave has a lot on his plate. The pace of his life could easily be overwhelming, but luckily, he has all the energy he needs thanks to Isagenix nutrition.
Since beginning his journey with Isagenix, Dave has lost 176 pounds and has gone from being the dad who made excuses for not being active with his kids to being someone his kids can look up to.*
Dave recently participated in his first 5K Spartan Race and was honored to have his four kids run the Spartan Kids Race as well.
"I'm so excited to have hit my health and wellness goals but even more excited about continuing to set new ones," he said. "I want to be strong, fast, and healthy, not only for me but also for my family. I can't wait to make them as proud of me as I am of them as we run, get muddy, and celebrate what our bodies can do!"
Be Our Next GRAND PRIZE WINNER!  
Inspired by these incredible stories and ready to see yourself onstage as an IsaBody Finalist?! Register for the IsaBody Challenge today, and discover how you can transform your life in 16 weeks. 
*Weight loss should not be considered typical. A two-phase 2016 study published by researchers at Skidmore College showed an average weight loss of 24 pounds after 12 weeks. The study evaluated the use of Isagenix products in men and women for weight loss followed by weight maintenance. As part of the weight loss phase, the participants took part in a calorie-controlled regimen of Shake Days and one Cleanse Day per week. During the weight maintenance phase, the subjects who continued the calorie-controlled program using Isagenix products better maintained their weight loss in comparison to those who transitioned to a traditional diet after 52 weeks. For more information on the study, see IsagenixHealth.net.
The post The IsaBody Challenge: The New Way To Start, Complete, and Repeat in 2020 appeared first on Isagenix News – IsaFYI.com.
Source: ca.IsaFYI.com